Ann mentioned in the previous post that we were given a blog award by Little Brown Sparrow. Thanks! We are to pass along the Brilliante Weblog Premio 2008 Award to seven other blogs. But due to my pathological tendency not to follow directions and the fact that it is 10 at night and I'm exhausted, I am only passing the award along to three.
To the folks below--Please don't feel obligated, but if you feel like participating, here's what you do:
1. Link to the blogger who gave you the award (that would be us).          2. Nominate 7 blogs.
3. Link to those 7 blogs.
4. Leave the nominees a comment that they received the award.
Dear readers, I am going to try to break you out of your blogosphere comfort zone with some of my nominees. Don't be nervous...I promise it won't hurt. So here we go:
A Long Ride (version one)                                                        Blogger Dusty Davis took a motorcycle trip from California to New York and back, and documented his journey here. I don't think this blog is being updated anymore, but no matter: The photos are beautiful and it will make you long for the open road.
Chief Joseph Scenic Byway, Wyoming, from A Long Ride (version one)
A Long Ride (version two)                                                              Just to confuse you, Dusty has a second blog called A Long Ride which chronicles other long distance motorcycle trips he has made (I think there is some overlap between the two). Equally as beautiful and fascinating. This is a must for lovers of travel.
Man riding a donkey in Guerrero, Mexico from A Long Ride (version two)
Breakfast Bunch Handmade                                                         These girls are fun. They share yummy recipes. They make cool crafts.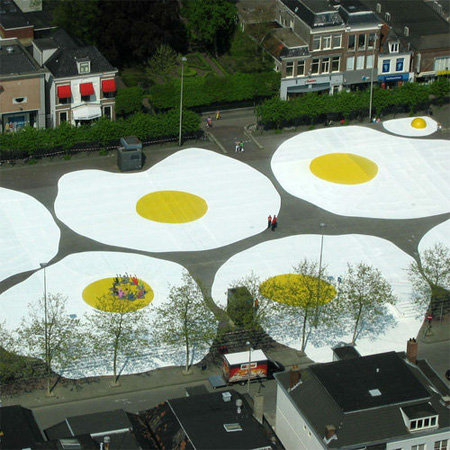 Giant Eggs in the Netherlands from Breakfast Bunch Handmade
Mail Order Bride Vintage                                                            St. Louis girl Dana Plonka is a world traveler and rock-n-roll aficionado. She also makes supa-cool little notebooks and journals. Kinda racy ones, I warn you. Just reading Dana's blog will make you instantly hip.
Old 97s at South x Southwest from Mail Order Bride Vintage
Well, that's it folks. Sorry I only did three. Hope I expanded your horizons a little bit. If you visit any of these blogs, leave a comment and tell them we sent you!
Sharon